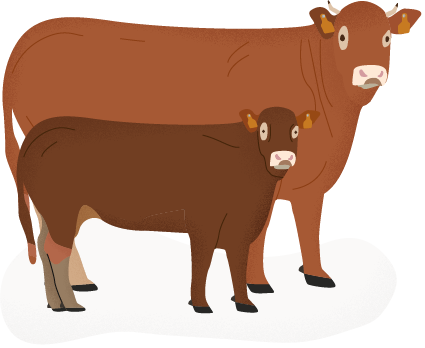 Cattle
Animal husbandry
From spring until autumn, the cattle pastures on the grazing land of the farms. During the winter, they are kept in spacious stables that allow them freedom to move around and to access food at their own will.
If cows have to be temporarily kept in the stables during summer to guarantee for a better care, for example when they are about to give birth, they have access to an outdoor yard. After being born, calves stay with their mothers. They are nursed until the age of 10 months and get raised species-appropriate as a part of the herd.
Feeding
In summer, the cattle eat grass on the pastures. In winter, they receive hay and/or grass silage. If necessary, they also receive grains in order to balance their food intake.
In most cases the feed is produced entirely on the farm itself, but it can also be purchased from other organic farms. The purchase of soya is not permitted.
---
Pigs
Animal husbandry
Also in regards to pigs, appropriate rearing means that the sows and the piglets are placed in stables with a lot of daylight and natural aeration. They also need to have enough space to move around freely.
The piglets are nursed for at least 40 days, and afterwards their feeding is adjusted.
The rearing and fattening take place on the same farm in order to guarantee the best conditions for the production of organic quality meat. A visible sign for species-appropriate rearing is the curly tail; tail docking is prohibited in organic pig farming.
Feeding
The feed comprises grains and fruits, but also hay and grass silage. Here, the feed is also primarily produced on the farm itself, or purchased from other organic farms.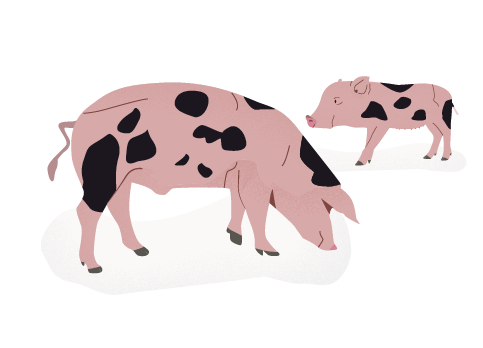 ---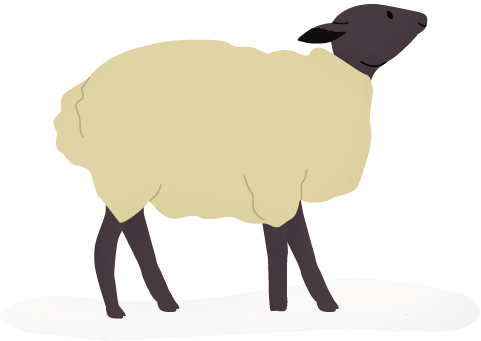 Sheep
Animal husbandry
Sheep are by nature very resilient, as their wool protects them from the cold and rain. In our organic livestock farming, the sheep have the possibility to be outside as long as the weather conditions allow it.
When the time for the birth of the lambs comes, the sheep are often in the stables to guarantee that they get all the care they need. After only a few days, both the mothers and the lambs are grazing on our organic pastures. The lambs are nursed by their mothers for up to 5 months. The fresh and nutritious grass strengthens the sheep, so that the milk they produce can support the growth of their lambs.
Around mid-June, the sheep are shorn, which helps them to regulate their temperature better during the summer months.
Feeding
During winter, the sheep are fed with hay or grass silage. In general, sheep receive very little concentrated feed.